Government Action
Policy for climate and health
COP26 Health Programme–climate change prevention and preparedness
While both the private and public sectors need to take climate action, the scale of the crisis requires in-depth, long-lasting, and rapid decarbonization carried out by government policy, laws, and regulations across all sectors. With a global greenhouse gas contribution of 4.4%, the health care sector is no exception. National and sub-national health authorities control numerous policies and financial levers essential for health care decarbonization and resilience.
To realize the vision laid out in our Global Road Map for Health Care Decarbonization, Health Care Without Harm is playing a leadership role in the COP26 Health Programme, working with the Conference of the Parties (COP) Presidency (via the UK Foreign Cooperation and Development Office-FCDO), the WHO, Greener NHS, and the UNFCCC Climate Champions team. Together, we're working to support national governments to make a set of commitments on health care resilience and decarbonization. Our goal is to build more robust country ambitions on climate emissions reduction and resilience with a leading cohort of health ministries committed to health care climate action. In the lead-up to COP26, these national ministries will join the growing number of hospitals and health systems making similar commitments through the UN-backed Race to Zero. Together, these two efforts can begin to propel the health care sector on a trajectory that aligns with the ambition of the Paris Agreement.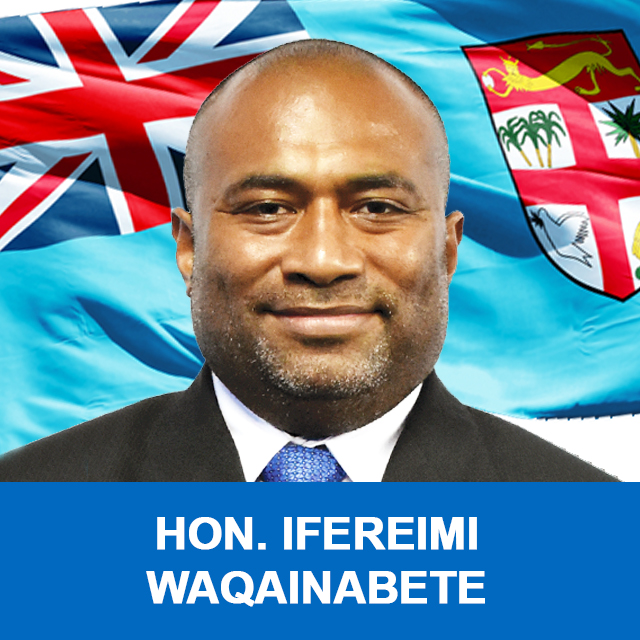 In the midst of the pandemic, we had to recover from extreme weather events and manage the resulting health impacts. [It] has shown us that health systems and facilities are the main line of defense in protecting populations from emerging threats … and that now is the time to increase our commitment to a safer, and more sustainable and inclusive future for all.
HON. IFEREIMI WAQAINABETE
Minister for Health and Medical Services, Fiji
Following COP26, Health Care Without Harm will support national governments to follow through on their health care climate commitments. We are creating a framework and methodology for countries to set their health care climate footprint baseline, develop effective decarbonization and resiliency plans, and implement them.
It can be done and it must be done
Recently, the government of Argentina included a commitment to estimate its health system's emissions and define reduction measures in its Nationally Determined Contribution. England's NHS has developed a plan to get to net-zero by 2040. Several major U.S. health systems, including Kaiser Permanente, Cleveland Clinic, and Providence set or met carbon neutrality goals. The state of Chhattisgarh in India is investing in solar power for all of its hospitals and health centers. These leadership actions are an indicator that climate-smart health care policies and actions are emerging on every continent and are viable and achievable.
International agencies play an essential role in supporting national and subnational governments to make emission reduction commitments. The United Nations Framework Convention on Climate Change (UNFCCC) has developed a set of climate pathways that outline the sectoral visions for a 1.5-degree climate-resilient world by 2050 and the actions needed to achieve that future. The World Health Organization (WHO) provides policy and technical guidance to ministries of health around the world, particularly in low- and middle-income countries, where the transition to low carbon health care and resilience must occur in unison with addressing urgent health needs, including Universal Health Coverage. Numerous bilateral and multilateral development cooperation agencies are beginning to invest in transforming health care to meet the challenges of the climate crisis.
Country Commitments to the COP26 Health Programme
Image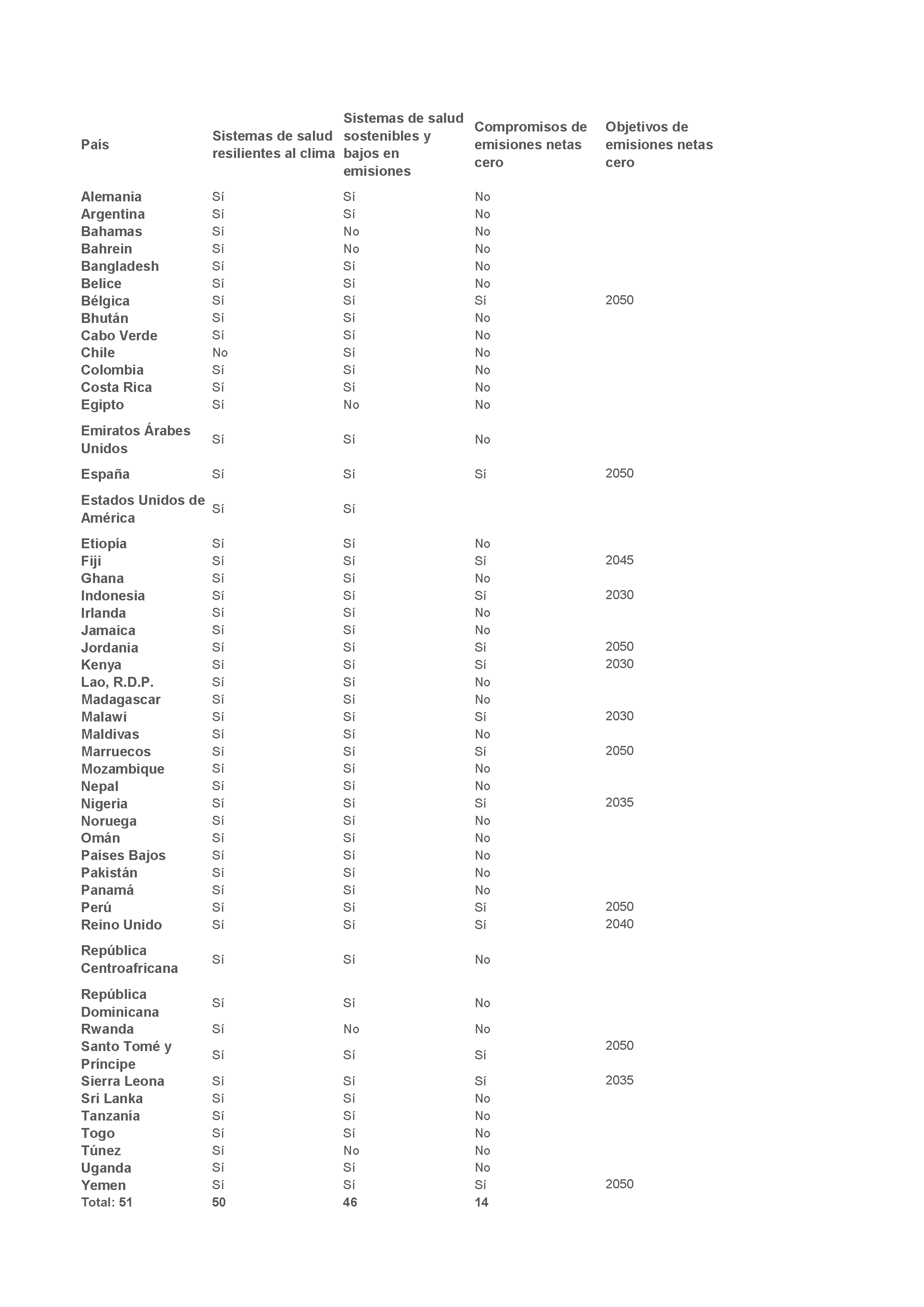 Solutions in action & resources
Video
Over 50 countries commit to COP26 Health Programme
As one of three partners of the COP26 Health Programme, together with the COP26 Presidency and the World Health Organization, Health Care Without Harm has been working to encourage countries to develop climate-resilient and low-carbon health systems. On November 9, 2021, at the COP26, 50 countries announced their commitment. Josh Karliner, International Director of Program and Strategy of Health Care Without Harm, explains the significance of these health care climate actions and this historic moment.
Brief
Countries commit to develop climate-smart health care at COP26 UN climate conference
A group of 50 countries have committed to develop climate-resilient and low-carbon health systems at the UN Climate Change Conference in Glasgow (COP26), in response to growing evidence of the impact of climate change on people's health.
The governments of these 50 countries, which include some of those most vulnerable to the health harms caused by climate change as well as some of the world's biggest carbon emitters, have committed to take concrete steps towards creating climate-resilient health systems. 
Brief
COP26 Health Programme: Country commitments to build climate resilient and sustainable health systems
An overview of the COP26 Health Programme initiative's commitments for climate resilient health systems, sustainable low carbon health systems and the process for recording/tracking commitments.
Brief
Key considerations for the incorporation of a health perspective in NDCs
This policy brief identifies some of the main elements for incorporating a comprehensive health perspective in the Nationally Determined Contributions (NDCs) presented by countries as climate action commitments under the Paris Agreement. Its goal is to guide national governments in developing or updating NDCs in incorporating key considerations which would enable mobilizing the health sector to tackle the climate crisis.
Article
Argentina becomes first country to include health care decarbonization in its global climate commitment
In 2020, Argentina became the first country to include health care sector decarbonization commitments in its Nationally Determined Contributions (NDC) to the Paris Agreement. In addition to several adaption measures, Argentina's NDC calls for an assessment of health care sector greenhouse gas emissions and the establishment of emission reduction actions as a priority for implementing its NDCs.